Add chords using iPad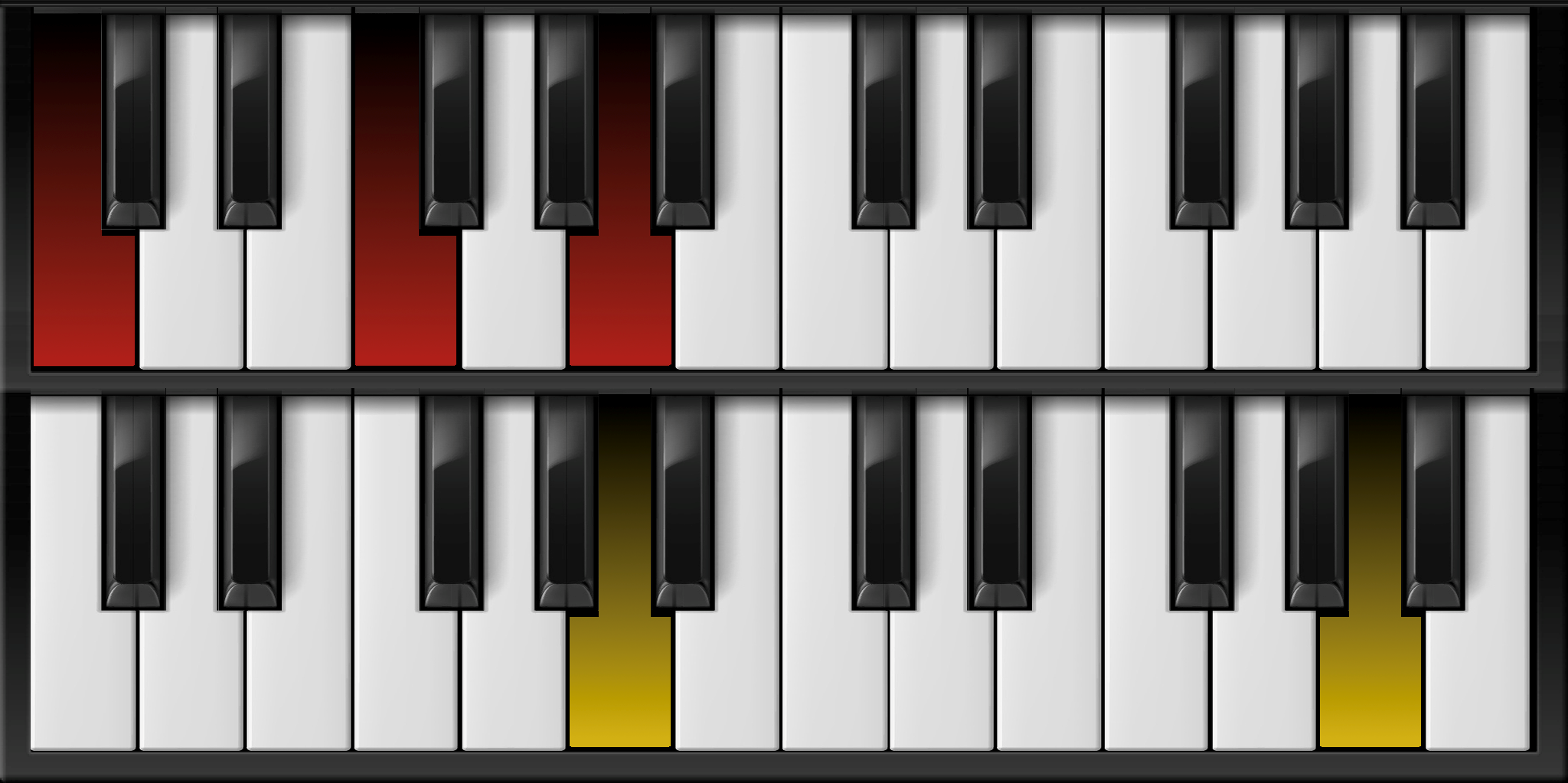 To enter chords directly on the iPad, just press the keys to toggle on/off. Right hand keys are getting red if active and those for the left hand yellow. When the sound output is active, you also hear the piano sound. Use the Clear button to release all keys for both keyboards.

        If all necessary notes have been set for a chord, you can use the PLUS key to append the chord into the current song at the end.
Left and right hand
The distinction between left and right hand is mainly important for chord images. The right hand is drawn as a circle and the left hand as a gray box. The chord name in the control panel shows right hand chord name as heavy bold, while the one for the left hand is smaller and superscript. Please have this in mind, when entering the chord names manually.
Automatic chord names
ChordPainter has internal calculations to recognize chords automatically. Up to 6 inversions are considered here. Because the chords managed separately for the left and the right hand, there are two lists with found chords for each hand and you can select by tap, which chord name should be used.
Solonotes of the left hand are used as a bass note and not as a chord, this also applies if 2 notes with an octave intervall will be played.


Enter chord names manually
If the automatic detection does not find a matching chord name or you are not happy with the detected chord name, then you can enter chord names manually. Just tap the chord name area and the following input is displayed.

I have made special buttons for the most important chord name suffixes to make the input more comfortable. The upper chord applies to the right hand and the lower chord to the left hand.
The small numbers in supersrcript are showing the chord inversion detected by ChordPainter. For the manual input I have only added 3 inversion buttons, even a maximum of 6 which are evaluated.
NOTE: You could also setup a chord name like 'PART-1' without any notes. This could be used as a separation for individual song areas.